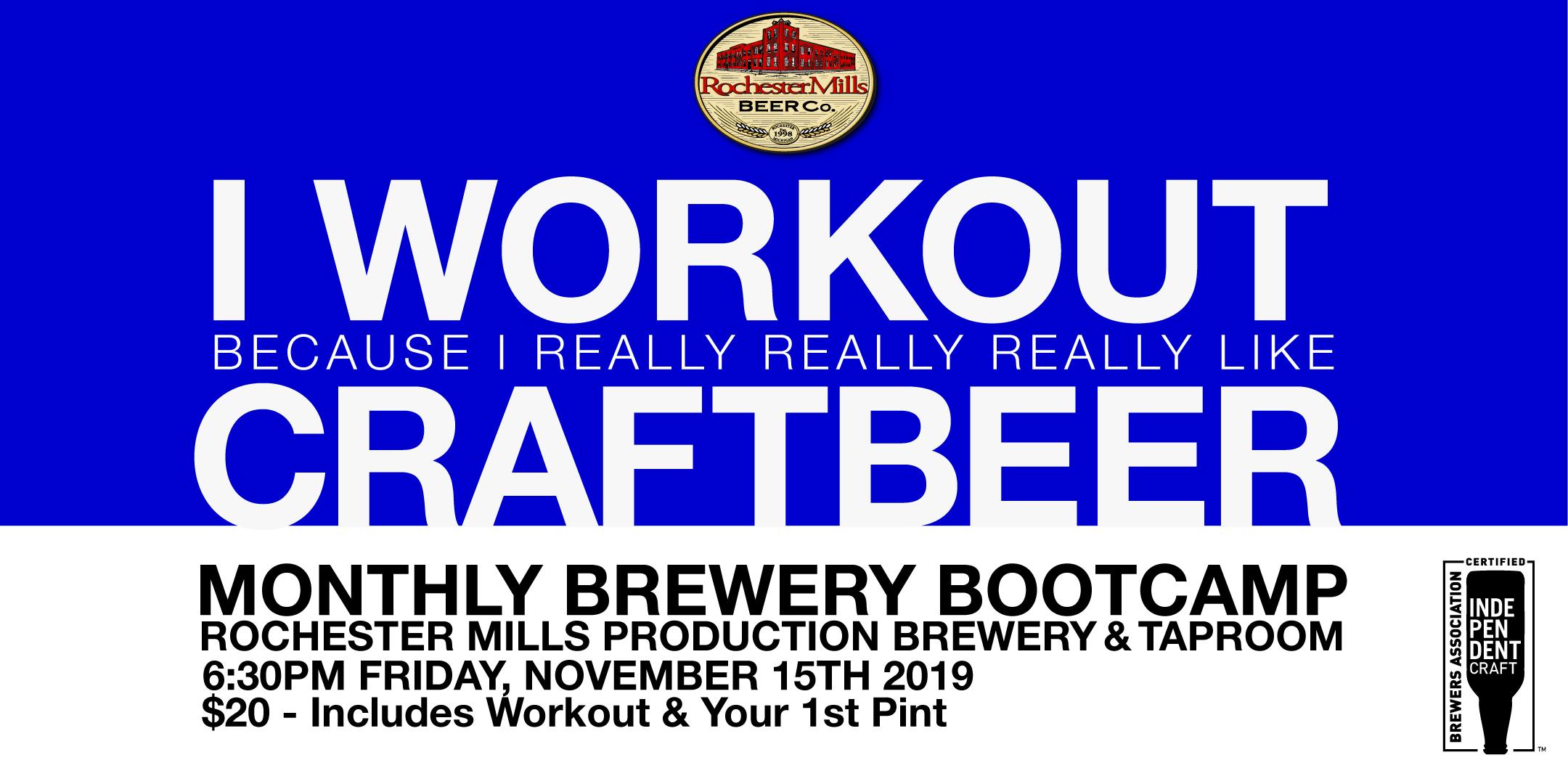 Brewery Bootcamp – November 15, 2019


Rochester Mills Production Brewery & Taproom
About event
BREWERY BOOTCAMP
The Brewery Bootcamp workout is a combination of moving circuits, on-the-spot, on-the-move, and freestyle format exercises. The Brewery location provides a number of unique features and elements – kegs, stacked pallets, and ample open space are just a few features we will utilize. These workouts are designed to keep you on your toes and are as challenging as you want them to be.
When: Friday, November 15th - Workout starts at 6:30 pm
(sign-in starts at 6:00)
Where: Rochester Mills Production Brewery & Taproom
How Much: $20 online ($25 at the Door unless already Sold Out) - Includes Workout & Your 1st Pint
What to Bring: Workout Clothes and Athletic Shoes, Water Bottle, Towel and/or Fitness Mat and a Positive Attitude.
THE WORKOUTS
Our training style draws on the muscle-building power of the core to challenge the entire body. When your core is strong, results build outwards. All of the workouts are designed to burn calories (so we can enjoy that next beer – guilt-free) and build strength, endurance, cardio, balance, and increase your overall athleticism. 
COMMUNITY
The final aspect to the Brewery Bootcamp is as important, if not more. When people first join a gym, they're often unsure of what they should do once they step inside the building. Some struggle to determine which exercises to do, others simply don't know how to do them. Joining our group class can help build a fitness foundation while providing some motivation, structure, accountability, fun, and friendships that you can use to fuel your personal health journey for years to come.
MEET YOUR TRAINER
Anda has been kicking-ass since she started her own personal fitness journey more than 10 years ago. She holds a Personal Trainer Certification from the American Council on Exercise (ACE) and teaches a variety of fitness classes at two local gyms. She also happens to be married to our Taproom Manager, Dave. They have four teenage boys who mean the world to them – Trevor, Jasper, Porter, and Oliver. 
Anda took a leap of faith to follow her newfound love of fitness after 15 years of being a very busy, full-time stay-at-home mom. She is a big fan of Stouts, and her favorite is our Milkshake Stout - especially the coffee varieties from the 12 Days series. 
Come join us and earn your next beer!
Note: All participants must sign a liability waiver before participating in the Brewery Bootcamp workout.