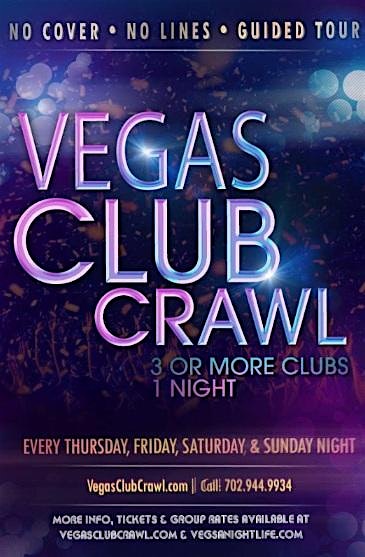 Vegas Club Crawl: Exclusive Sin City Nightclubs & Pool Parties


About event
Vegas NightLife and Vegas Club Crawl Present...
Vegas Club Crawl
Join Vegas's #1 Club Crawl Every Friday & Saturday Night
Enjoy Free Entrance into Las Vegas' Top Nightclubs.
No cover at any venue throughout the night

2-for-1 Drink Specials at registration venue - at Alexxa's Bar An Amazing Location (Entrance on the Strip at Paris Hotel Resort & Casino)

Comp Admission Before 

3 PM

 to Liquid Pool Party (The Following Day)
Bonus Bachelor Package: FREE LIMO Ride & No Cover Entrance to Sapphire Nightclub. Call to book this package. 

The line up varies from night to night. Here are some of the venues; Jewel Nightclub, Marquee, Hyde, Drai's, Clique Bar & Lounge, Chateau, Beer Park
Party amongst the hottest nightclubs on the Las Vegas Strip, with one All-Access pass, which grants you entrance with NO COVER and little to NO WAIT. 
The Perks: 

Guided Tour
No Cover
Little to No Wait
Drink specials at registration venue
Perfect For:
Local singles & couples looking to expand their social circle and dance the night away
Tourists or anyone new to the city that want to make the most out of their visit
Something fresh and fun for a Boys Night or Ladies Night out
 
***Celebrate with the Vegas Club Crawl ***
Birthdays
Work Parties
Bachelor or Bachelorette Party
Ladies Night
Boy's Night
Host your own PRIVATE crawl. That's right, you and your friends can have your own VIP Host to take you on your own Club Crawl

Shoot us an email to ClubCrawl@VIPNightLife.com or call or text us at 702-984-0478 for more information! 
 
Here's how you join the party:
 
1) Buy your ticket
$ave online or $80 at check-in. Your ticket grants you access to 3 or more venues.
 
2) Dress to Impress
Wear comfortable upscale shoes
No ball caps, t-shirts, shorts or tennis shoes
Upscale nightclub attire required 
3) Check-in & Pre-Party
Check-in is at 9:00pm. Here you will meet your VIP Hosts and the rest of the Club Crawler.
Alexxa's Bar @ 9:00pm
3655 S. Las Vegas Blvd, Vegas, NV 89109

4) Party Time
Your VIP Hosts will gather the group and guide you to the clubs. All the clubs are nearby each other and only a short walk away. Get ready for a memorable night.

   Registration is at 9:00pm. Please do not show up late.
Must be 21+ to participate 
Facebook: VegasClubCrawl Twitter: VegasClubCrawl Instagram: VegasClubCrawl
::| All sales are final. No refunds or exchanges. We will give you credit for a future crawl if there  is a death, act of God, or extreme illnesses that prevent you from attending.
: | Full Disclaimer |:  
DRESS CODE: Strict dress code is enforced for all ticketholders. Venues reserve the right to refuse entrance or service to any and all ticketholders their agents deem not dressed appropriately. One venue's dress code may be stricter than another venue's dress code. Upscale club attire is required; look sharp, dress to impress. This includes being well groomed and having a clean, polished look. Footwear must be clean and nice: no tennis shoes. No ball caps allowed. Men are suggested to wear fitted attire, collared shirt or dress shirt, nice pants and/or dress pants, dress shoes, jacket. Ladies are suggested to wear dresses or skirt outfits; nice skinny jeans or upscale legging outfits are okay if they can be really dressed up. Ladies are suggested to wear footwear that looks good but that they can dance in and move comfortably in throughout the night. Ladies are suggested to leave their big purses and clutches at home and to have a nice small cross-body purse so that they can be hands free to hold their drink while they dance.
*Free Drinks are a complimentary drink provided by the venue, at the venues' discretion.  In some cases, ticketholder does not get to choose what complimentary drink is provided to ticketholder.
If ticketholder appears to be over-intoxicated, the venue has the right to deny ticketholder entry; there are no refunds if a venue denies entry for ticketholder appearing to be over-intoxicated.   Each venue must abide by Fire Marshall capacity regulations, in which case, you may not be able to enter a venue immediately.  Each venue may have private/reserved sections of the venue that are not accessible to ticketholders. Venues may be replaced with other venues.