40 & Over Chemistry Singles Mixer
About event
* QUICK NOTE: You have to get your tickets here in advance online. You will not be able to pay at the venue door. We recommend grabbing your ticket now because we'll be raising the ticket price as event time gets closer. The price may go as high as $40 by event time.

Come on out and find out why this has been called "The best place to meet quality singles in NYC!" Mix and mingle with fun, mature NYC single professionals ages 40s & 50s+ at one of NYC's hottest venues... Legrande Lounge. A Chemistry Mixer is a revolutionary and exciting new way to meet quality singles in this busy city. A Chemistry Mixer tends to attract quality, single professionals who are done with the dating games and ready to meet that special someone.

HOW IT WORKS:
- You'll be mixing & mingling as you would at a traditional cocktail party. Upon entering you'll get an icebreaker sheet with a series of fun "chemistry questions". While mingling you can ask people these questions... As people answer your questions, they'll initial your ice breaker sheet. The more questions you get answered the more chances you have have to win great raffle prizes! A couple of hours into the event, our event host will collect the ice breaker sheets and hand out raffle tickets (You can participate in the question asking as much or little as you'd like. Most people love asking the questions because they want to win prizes but some people choose to mix and mingle without the questions. It's totally up to you... no pressure at all!)
- Upon entering you'll also get 5 "Chemistry Cards". You can write your name and email address on each card and we encourage you to hand out your cards to the 5 people you felt you have the most chemistry with based on the way they answered the questions, or just give them to anyone who caught your eye (of course you can hand out less than 5 cards if you'd like. It's totally up to you). It's then up to them to email you in the near future.

An example of some of our unique chemistry ice breaker questions:
* If you had a time machine - where would you take it to? Would you stay there?
* Do you usually follow your heart or your head?
* Would you rather live for one year on an island by yourself or for one year in a small apartment with 7 strangers?
* Would you grow a mohawk for a year if it meant that $10,000 would go to a good charity?
* A friend who needs a job applies at your business. Someone who is much more qualified also applies. Do you hire your friend?
* What is one thing you've always wanted to cross off your bucket list, but haven't yet?
Event Details:

* Suggested Age Range: 40s & 50s+

* Great Music Being Played At Conversational Levels

* The Event Goes Until 10:30 So Feel Free To Arrive Any Time. Most People Arrive Between 6:30 and 7:30 PM

* Drink Specials!

* 10 Prizes Being Raffled Off!

* We Usually Have Over 100 People Attend!

* Typically 75% of Attendees Come Alone (25% come with friends).

* Dress Code: Neat, Professional and/or Stylish - No t-shirts, shorts, sneakers, tank tops, baseball caps or gym attire. What You Wear To Work Is Likely Fine.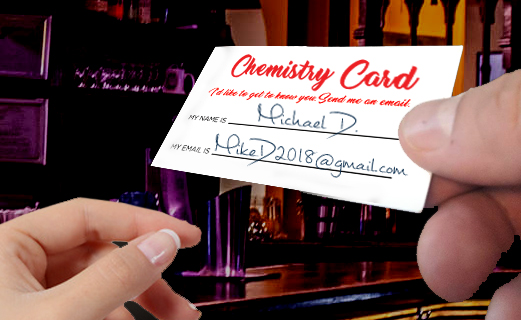 What people are saying about recent Chemistry Mixers...
"The chemistry questions are the perfect way to tell if you'd have long term chemistry with someone. I got to connect with a lot of amazing people and truly feel that I got to know some of them enough to tell if we'd be compatible in a relationship" - Melissa T., NY
"Thank you so much for throwing such a great event. The crowd was really great and everyone was super friendly. As a busy professional I don't get that much time to get out and meet people so it was nice to be in such a relaxed environment around people my age. Event well done!" - Danielle, NYC