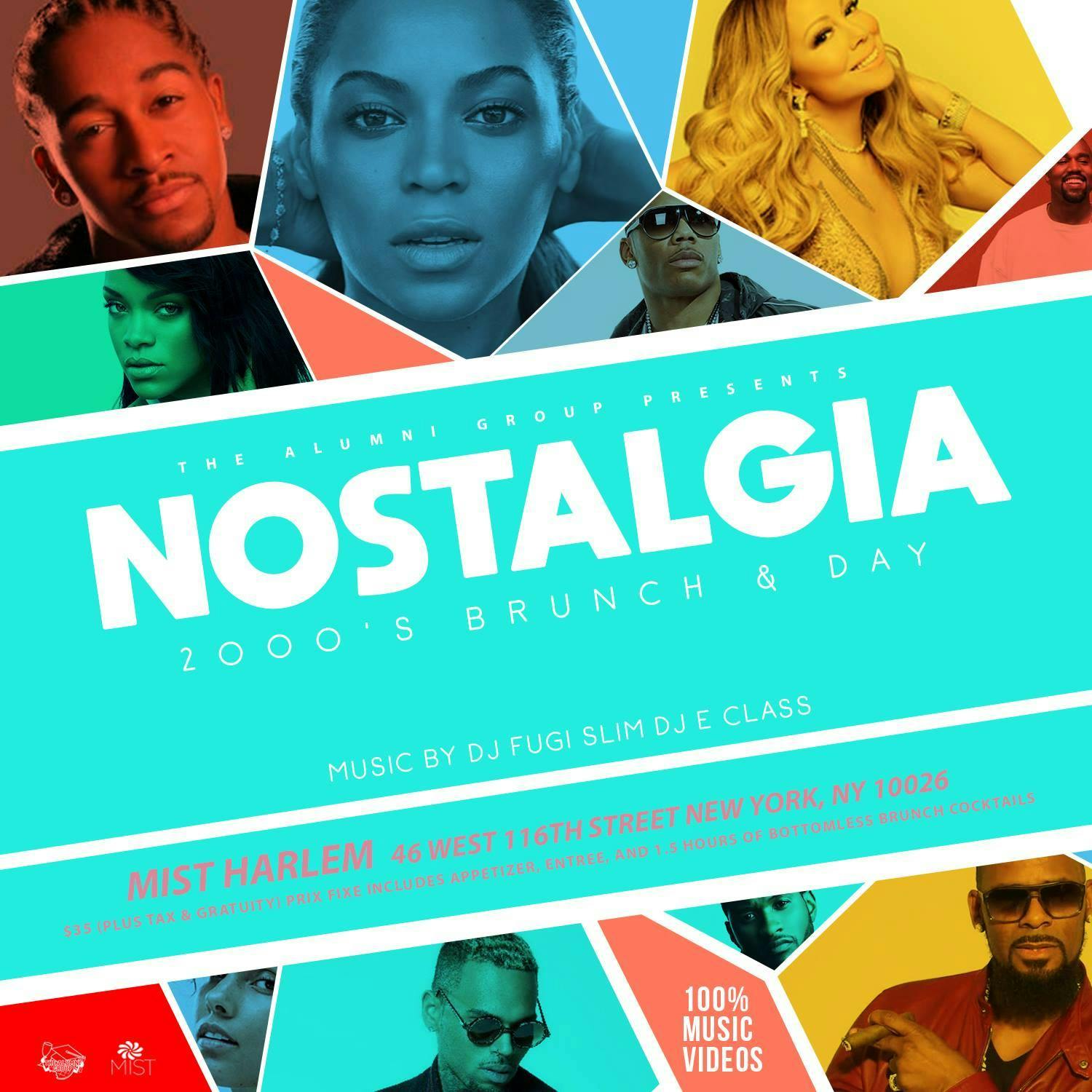 Nostalgia: 2000's Brunch & Day Party


About event
Remember the good ol' days... filled dorm room drama, dining hall dinners, probates, and cross-country road trips to visit your friends on other campuses, The Obamas? "These are the times we all wish for", those days when life was simple! Come reminisce with The Alumni Group (TAG) at Nostalgia: A 2000's Brunch & Day Party, where we'll celebrate the 00's! If you matriculated or crossed the burning sands between 2000-2009, this brunch will feature the soundtrack of the most carefree days of your life! Come thru to Mist Harlem and kick it with us as we pay homage to one of the dopest and most slept-on decades in recent history. In true TAG fashion, $35 gets you an app, brunch entree and 1.5 hours of bottomless brunch cocktails. Spend your Sunday with us as we take this trip down Memory Lane...
$35 Prix Fixe Brunch Includes an Appetizer, Entree, and 1.5 Hours of Bottomless Brunch Cocktails (This Price DOES NOT include Tax & Gratuity which comes out to $45 total)
$55 Prix Fixe Brunch includes an Appetizer, Entree and Bottomless Drinks for the duration of the event.  (This Price includes Tax & Gratuity)
**Seating during brunch is on a first come first served. RSVP does not guarantee seating**
***For Reservations or Pre-Paid Brunch Arrangements Please Email or Call Keira (646) 299-3000 or Email RSVPBrunch@MistHarlem.com***
***Once you are done dining please be considerate of others waiting and relinquish your seats***
****Please use #TAGBRUNCH #2000sBrunch when sharing socially.****
Please follow us on instagram @The_Alumni_Group
MEDIA DISCLAIMER, photos and videos are occasionally taken at our events. The Alumni Group reserves the right to use any photograph/video without the expressed written permission of those included within the photograph/video. The Alumni Group may use the photograph/video in publications or other media material produced, used or contracted by The Alumni Group including but not limited to: brochures, invitations, books, newspapers, magazines, television, websites, etc.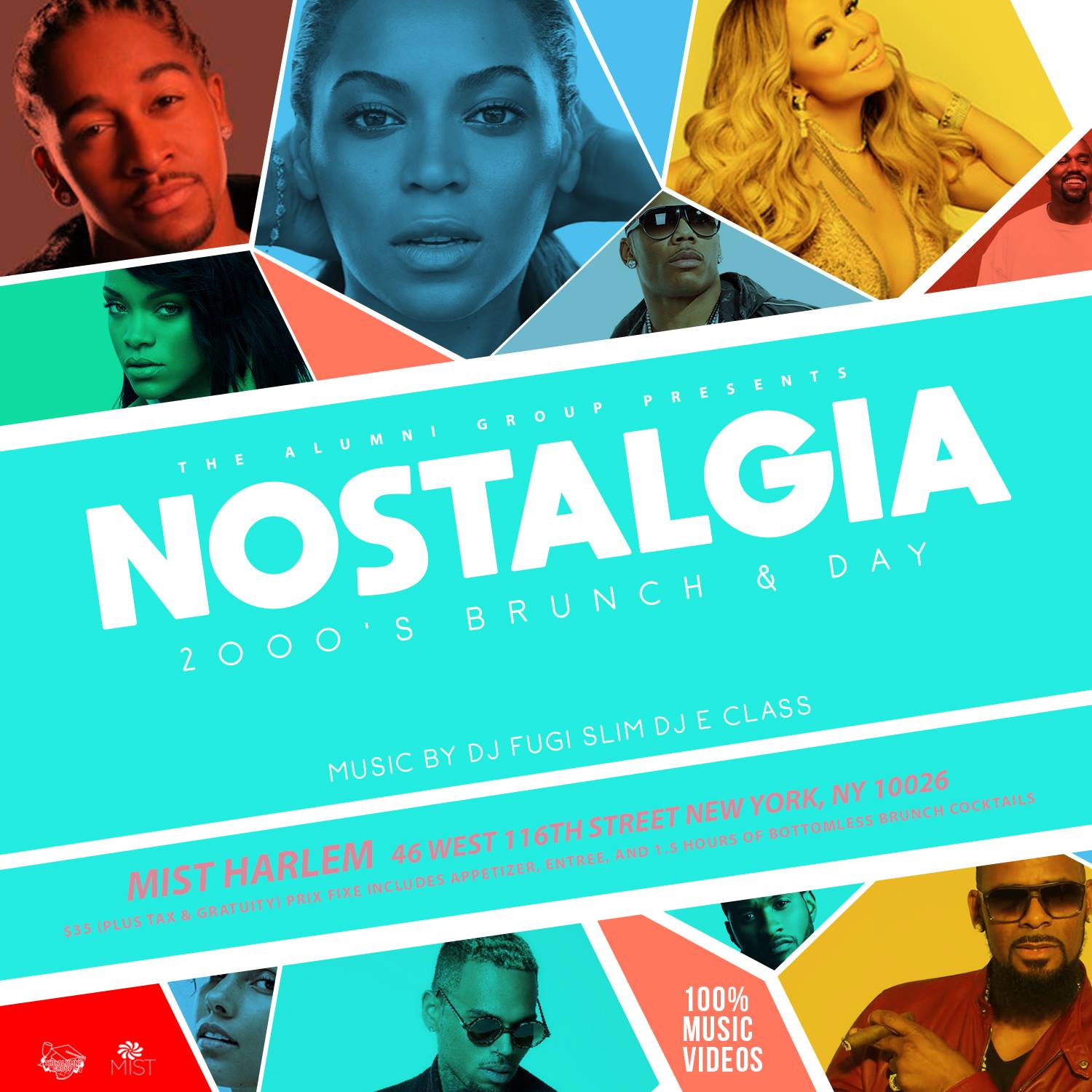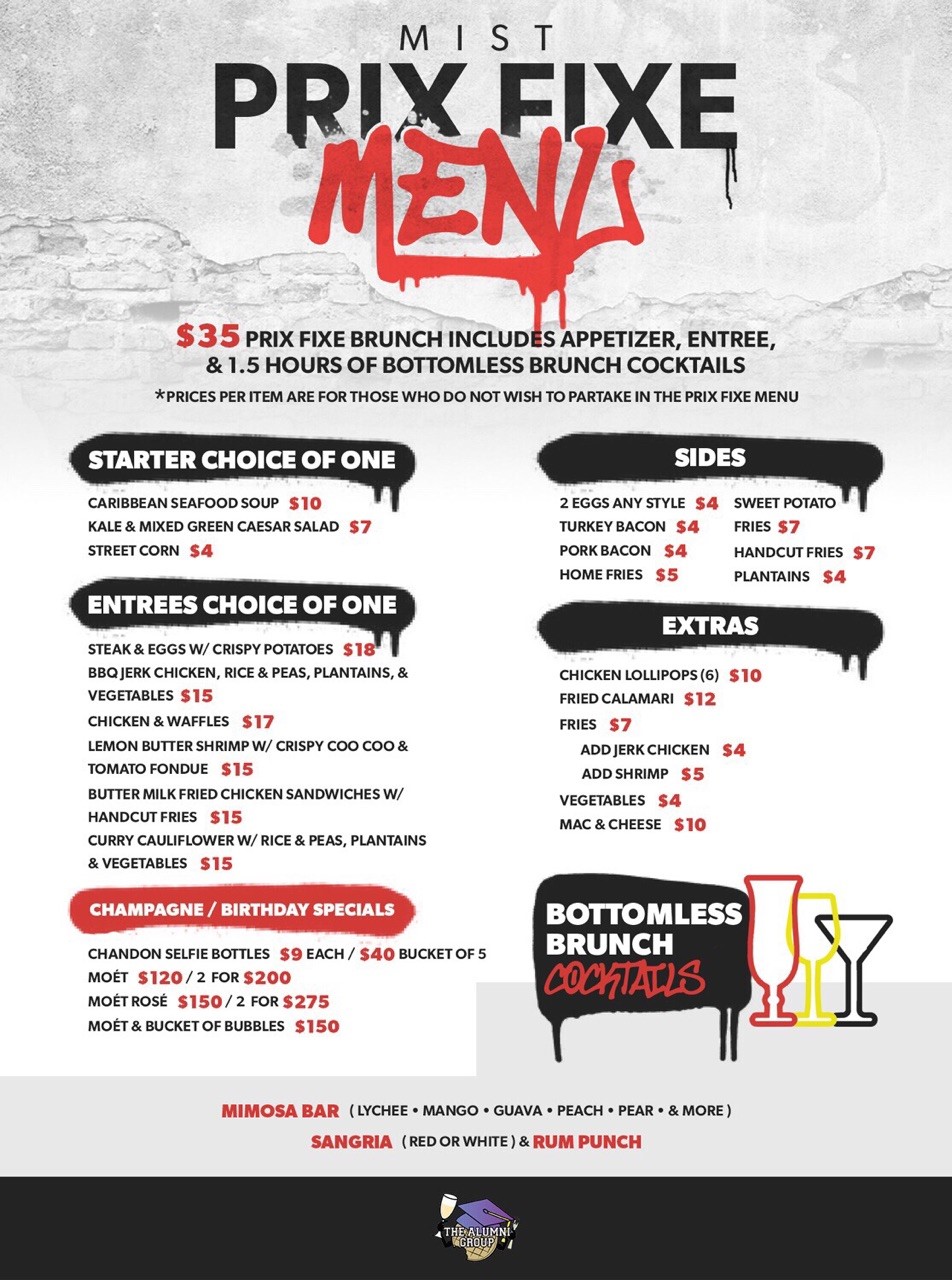 Bottomless 90 minutes unlimited mimosas, bellinis and Sangria
Mist Brunch Menu $35 Prix Includes Appetizer, Entrée and 90 minutes of bottomless brunch cocktails.
*Prices per item are for those who do not wish to partake in the prix fixe menu*
-Starters Choice of One-
Caribbean Seafood Soup $10
Kale & Mixed Green Caesar Salad $7
Pholourie Vegetables with Chadon Beni Aioli $10
Entrees
Steak & Eggs With Crispy Potatoes $18
Barbecue Jerk Chicken Rice and Peas, Plantains, and Vegetables $15
Chicken & Waffles $17
Lemon Butter Shrimp with Crispy Coo Coo and Tomato Fondue $15
Butter Milk Fried Chicken Sandwich with Handcut Fries $15
Mist Burger With Handcut Fries $15
Curry Cauliflower with rice and peas, plantains, and vegetables $15
Sides
2 Eggs Any Style $4
Turkey Bacon $4
Pork Bacon $4
Home Fries $5
Sweet Potato Fries $7
Handcut Fries $7
Plantains $4
Extras
Chicken Lollipops (6) $10
Fried Calamari $12
Cheese Fries $11
Add Jerk Chicken $4, Shrimp $5, Vegatables $4
Mac & Cheese $10
Bottomless Brunch Cocktails (1.5 Hours)
Mimosa
Tropical Bellini
Sangria (White or Red)
Champagne/Birthday Specials
Moet White Star $120 (2 for $200)
Moet Rose $150 (2 for $275)
Moet White Star & Bucket of Bubbly $150
Chandon Selfie Bottles $9 each, $40 bucket of 5