About event
12 DAYS, 10 NIGHTS INCLUDING AIR FROM LAX - $3,945
November 9th - 21st
This will be our 5th Peru trip with Machu Picchu and Cusco and our 2nd time to Iguassu Falls and Santiago.
We start off in Cusco the center of the Incan world.  We'll tour the city and ruins including theTemple of the Sacred Water and we'll even have an opportunity to mountain bike through the Sacred Valley (see itinerary below).  After 3-nights we will then take the Inca Express train through the unforgettable Urubamba Gorge for our 2-night visit to Machu Picchuwhere we can trek through the final stretch of the Inca Trail.
Machu Picchu, called the Lost City of the Incas, is of on most people's list of places to see but you will also love our other two destinations. 
Trip: 
There are really no words to describe Machu Picchu adequately except to say it is majestic and magical. With surreal clouds that hang from the surrounding mountains it appears as if these sacred ruins are leaping out from a fantasy. It is one of my favorite places destinations on earth. For those who are up for the approximate 5-6 hour and very steep hike to the Sun Gate, you will exit the train at mile marker 104 and begin your journey. It's a challenge but as long as you are reasonably fit you will make it. Otherwise you will stay on the train with our guide and can visit the next day. You will also have the option to take the smaller hike to Huaynapicchu mountain that offers an incredible view of Machu Picchu (see details below).
From Machu Picchu we will then take the train back and then board our plane for the 2nd stage of our trip - Santiago, Chille. We will enjoy a diverse choice of tours ranging from taking walks along the Paseo Ahumada, where there are many street stalls selling trinkets andsurrounded by Colonial buildings and full of street painters and musicians who perform all sorts of concerts on the stage. Climbing up the exuberantly landscaped Santa Lucía hill - via a maze of swirling stairways, turrets and fountains - is an essential part of the Santiago experience. Your reward is sweeping views over the city. The narrow streets and village-like atmosphere of Bellavista, the capital's arty, bohemian quarter, make for a great wander.
We'll set up wine tasting tours and there are many excellent beaches about an hour and a half's bus ride away.  We will also offer a great hiking tour that we did on our last trip in the mountains of Patagonia that ended at hot springs with a beautiful view!
Finally we take in the 3rd and perhaps most exciting stage of this amazing trip - Iguazu Falls on the border of Agentina and Brazil.
Nothing in the world of water compares to, or is as impressive as, the natural spectacle provided by the stunning group of 275 waterfalls that make up the Iguazu Waterfalls. Witness the mighty roar and jaw-dropping-spectacle of South America's grandest natural attraction - Iguazu Falls. which have been recently declared as one of the New Seven Natural Wonders, making them a must see destination for any traveler. The falls are surrounded by humid subtropical forest where the exuberant vegetation is house of different animals and offers some superb tropical bird watching. Tanagers, antbirds, toucans, manakins, parrots, trogons and tyrant flycatchers will thrill you.
Lower and upper walkways permit up close and personal experiences with this magnificent spectacle of nature. Trails through the 210 square mile reserve provide visitors with various views of the Falls, especially the largest one, Devil's Throat. Then our guide will take you into another marvelous adventure, the "Aventura Nautica", in which the Iguazu boat trip takes you right up to the base of the Falls.
We will be staying at the only hotel located inside the park - The 4-star Sheraton Iguazu Resort and Spa! See more info below. This will be an incredible experience. Our flight on the 17th does not leave until late afternoon so we will have a chance to have a second visit to the park.
This trip will get you back in time for Thanksgiving! We are returning on Monday the 21st.
INCLUDES:
Round trip international air from LAX (deduct $1,300 with your own air) 10-nights accommodations (double occ.) All ground transportation Guide service in Cusco and Machu Picchu Daily Breakfast Train from Cusco to Machu Picchu 1 lunch 1 dinners including a Folklore show. All entrance fees Boat ride and tour in Iguazu Falls
Option of mountain biking or tour of Ollaytatambo
DOES NOT INCLUDE:
Departure taxes or fuel surcharge (currently at $182) Argentina reciprocity fee of $160
 Deduct $1,500 with your own air and would need to also purchase the flights from Cusco to Santiago and Santiago to Iguassu.
OUR HOTELS:
CUSCO - Costa del Sol Ramada Inn 3-1/2 star
Costa del Sol decided to create an international business alliance with Wyndham Hotel Group. Our hotel in the airport was originally Costa del Sol Ramada Lima and with this decision, we took a step forward by naming it Costa del Sol Wyndham Lima, turning it into the first Wyndham hotel in Peru. Step by step we expand this alliance to some of our hotels. Finally, in 2014 we did an upgrade Wyndham brand to brand, turning into Costa del Sol Wyndham.
Costa del Sol Ramada Cusco is the perfect place to spend a few days or vacation as it is located in a colonial-era mansion that is considered part of the cultural heritage of the city of Cusco. The building dates back to the 17th century, when the Marquis de Picoaga arrived in the city and built himself a new home, employing stonework and murals. The Hotel Costa del Sol Ramada Cusco is an historic base for discovering the Inca civilization. This 4-star hotel has 90 rooms and is divided between a colonial wing and a contemporary wing, combining stone archways, a beautiful patio, a fountain and original murals dating from the architecture of the 17th century with all the comforts of a modern, contemporary hotel.
The rooms have been designed for the comfort of the guests and are spacious, peaceful and fully equipped. Features include Wi-Fi internet connections, cable television, direct dial telephones, safe deposit boxes and a mini-bar. The hotel conserves all the beauty of an old colonial mansion and provides the welcoming service that will make you feel special during every day of your stay with us. We have a restaurant, Ideal for family trips.
MACHU PICCHU - Tierra Visa Hotel - 3-1/2 star
Website - Tripadvisor Review #2 hotel in Aqua Calientes!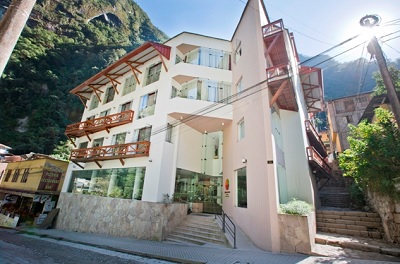 Tierra Viva Cusco Machu Picchu Hotel strategic location ensures our guests the best experience possible of the amazing Inca citadel. Our facilities are located in the quietest area of Aguas Calientes, facing the Urubamba River and surrounded by the Forest of Clouds. We have exclusively at your disposal, a bus stop from where our clients can directly take the bus to Machu Picchu or get to the archeological site after a 60 minute walk.
Modern style, our Hotel has 43 spacious and comfortable rooms, a lounge with a fireplace, a breakfast room and a bar to relax and enjoy some drinks after a day of adventures. Our hotel has a panoramic lift that has been decorated with Andean inspired graffiti by the Peruvian artist Carolina Málaga. Near the entrance of the hotel is the dining room, where every morning a delicious Andean buffet is served, and the Reception Desk were you can comfortably do your check-in.
SANTIAGO, CHILE - Crown Plaze - 4-star
With a location near all of the most popular attractions and convenient access to public transportation, Crowne Plaza® Santiago makes it easy to experience everything the city has to offer.Crowne Plaza is also the ideal choice among hotels in Santiago for business travel. We are within walking distance of IBM and Telefonica headquarters and a 15-minute subway ride to Costanera Center. Complete any last-minute tasks at our 24-hour business center, dine with 24-hour room service and rest well with our Sleep Advantage® program.
As a hotel near downtown Santiago, Crowne Plaza makes it easy to explore the city. Venture to the Plaza de Armas and marvel at its architecture. Taste world-renowned wines at nearby vineyards. Discover the Chilean National Zoo before climbing San Cristóbal Hill for sweeping views from the highest point in the city. We are also the best Santiago hotel near museums like La Chascona House, the National Museum of Natural History and the Museum of Visual Arts.While here, be sure to try authentic Chilean cuisine at our restaurant, Caruso. Play a game of tennis on our outdoor courts, then relax in the whirlpool. And at Trafalgar Bar, listen to live music with your favorite drink to end a perfect day in Santiago.
IGUAZU - Sheraton Iguazu Resort & Spa- 4-star
Website - Tripadvisor Review #1 hotel in Iguazu Falls
Strategically located inside Iguazu Park, Sheraton Iguazu features an outdoor pool and spa facilities. Some rooms have balconies with waterfall views. There is a restaurant, and a tennis court.
Beautifully decorated, rooms at Sheraton Iguazu Resort & SPA feature large private balconies. Some of them overlook the waterfalls, and some others enjoy a jungle view.
A buffet breakfast is served daily. international dishes can be enjoyed at Garganta del Diablo Restaurant, overlooking the falls. Fine drinks can be ordered at the bar.
Spa facilities include a Jacuzzi, a hammam, and a sauna. Guests can request massage sessions, unwind on the lounge chairs by the pool or hike through the lush garden surrounding the property. A fitness center and a library are available.
Additional recreational facilities include the modern, fully-equipped Sheraton Fitness, and a great pool with a pool bar.
If you have any questions send a message to Online Support and one of our team members will contact you.