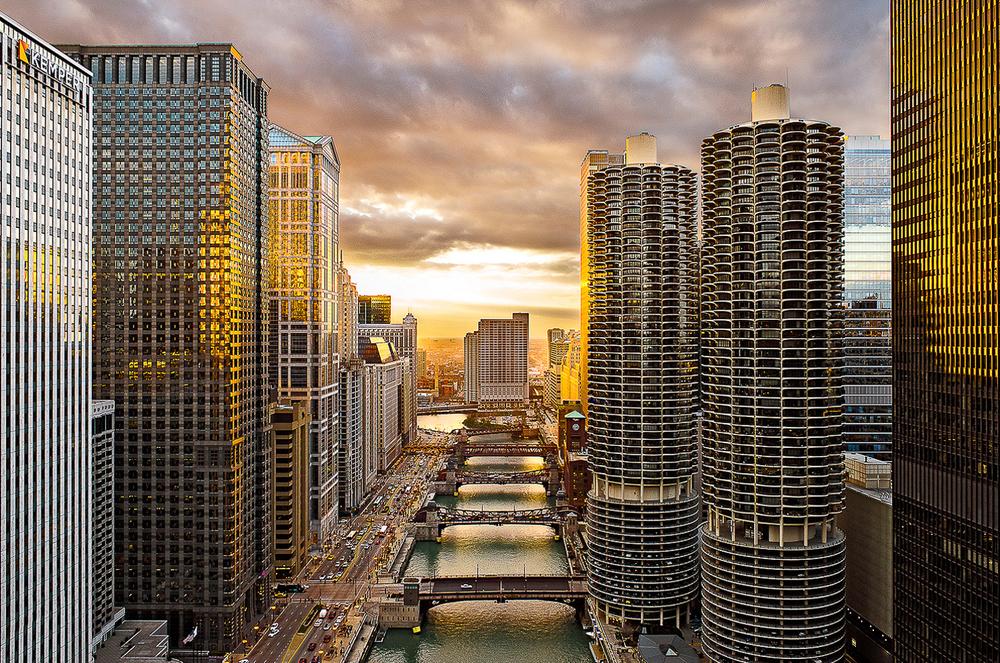 Chicago's Best 90-Min Architecture Boat Tour on The Chicago River


Summer of George: 312-809-6995
About event
***Customer Service Info***
These events are PRIVATE EVENTS hosted by ToursandBoats.com.  Please do NOT call the Summer of George for any questions because they will NOT have any of our event information.  


For Event Questions, please e-mail:  info@toursandboats.com or Call/Text:  312-809-6995.

It is recommened to text for a quick response although it can take up to 3 - 5 business days for responses during peak times.  


Daily Deal (ex. GroupOn) Website Redemption Instructions:  Click Here


Got another question?  Visit our Frequently Asked Questions (FAQ) section below. 
Are you interested in attending a sold out cruise?  For

Standby options

, view FAQ section below.
All guests including infants must have a registed ticket for the event.  See FAQ section below.
For Directions & Parking Info, click and print the following:  Directions & Parking Info


Chicago's Best 90-Min Architecture Boat Tour on The Chicago River
Marvel at the magnificent architecture on the Chicago River with expert tour guides! All ages welcome. 
What You'll See and Learn About
Your professional tour guide will lead you down the Chicago River to uncover hidden gems as well the city's most renowned landmarks. You'll get historical insight on well-known structures like the Wrigley Building, Trump Tower, and the Aqua Tower as well as the brand spanking new developments, like Riverline or the new CNA Center. You'll discover visual details and also just bask in the relaxed pace of the boat gliding by Chicago's famous architecture. 
Who Are We
ToursandBoats.com has been throwing special events for a decade. More recently, we've partnered up with some of the city's best, most non-droning tour guides to offer fun and informed boat tours of Chicago's famous architecture. 
For More Information including private tours for large groups , please contact us.
E-mail: info@toursandboats.com // Phone: 312-809-6995


*****SEPTEMBER DATES WILL BE ADDED BY 07/28*****
Tour Info:
Guided Tour!  Expert Guides!  Great Time!
Event is General Admission.  No assigned seating.
Purchase tickets early!  Prices go up as more tickets sell!
Please arrive 30 min before your cruise time.


The Best Discounts & Perks Period:
Ages 5 and below:  FREE  (must register on Ticket Buying Page)
Group Rates of 4 of more:  View Ticket Buying Page
Group Rates Available (10 or more):  E-mail For More Info
50% off Student Discounts Available w/ valid ID:  View Ticket Buying Page
50% off Military Discounts Available w/ valid ID:  View Ticket Buying Page
50% off Veteran Discounts Available w/ valid ID:  View Ticket Buying Page
50% off First Responsers Discount Available w/ valid ID:  View Ticket Buying Page
50% off Senior Discount (55+) w/ valid ID:  View Ticket Buying Page
Best Prices Gaurantee!  If you find a lower price, let us know and we'll beat it!

View Ticket Buying Page for discounts!


The Fine Print:
All tours and departure times are subject to cancellation due to unforsceen circumstances / unsafe weather*
Cruises are on rain or shine.
All tours are non-refundable and non-transferable
Seating is first come first serve.  If you have a large group, arrive early.
*We will always send an e-mail if there are any changes to your booked tour.  There is no need to call/text if a cruise will be cancelled.  Alwasys assume the cruise is going on unless you get a cancellation e-mail from us.


Frequently Asked Questions (FAQ):
What is the address?  900 S. Wells, Chicago, IL 60607.  Click Here for information.
Do I need a ticket for my baby/child?  Yes!  Even though children 5 and under are free, you must register a ticket for them.  The coast guard counts every body on the boat.
What happens if the event is sold out and I didn't register my child?  You will have to do standby for the child or find alternative means.  We will give parents priorty when possible, but it is not guranteed or promised.
Is there food on the boat?  Yes, there are snacks available for purchase.
Is there a bar on the boat?  Yes, there is a full bar on the boat.  Alcoholic beverrage start at $5.
How much is parking?  Where do I park?  There is a parking lot at the marina.  Parking is roughly $10.  Click Here for more information on parking.
How do I redeem my voucher for a date?  Please download your voucher and follow the step by step redemption instructions.  Please contact the daily deal site for any assistance on getting your voucher # if you can't locate it.
How does Standby work?  In order to do Standby, you just show up and it is first come first serve.  Although chances are usually good (we haven't had to reject anyone this summer yet), please recoginze that we can't gaurantee it.  We will first process all the ticketed passengers.  If there are any no-shows, we will process the Standby guests in order.  For example, if there are 15 no-shows, we will process the first 15 people in the Standby line.  It will be $40/pp (exact change, cash only) to purchase a ticket on-site.  If you have purchased a voucher already, you can use that for the ticket; however, it must be an un-redeemed / unused voucher.  If using a voucher, you will only need to pay for the taxes & fees ($5/pp) (cash only, exact change).
Can I get a refund?  Unfortunately, all tickets are non-refundable after purchase.
Can I reschedule (including emergencies)?  Unfortunately, all tickets are final as soon as you reserve a date.  A spot is automatically reserved for you and can't be rescheduled.  
Can I give my ticket to someone else even if my name is on it?  Yes!  If you have an Eventbrite ticket, you can give that to anyone regardless of the name on the ticket.  We only care about the unqiue bar code.
I don't see my date on the calender.  Is it available?  If the date is not listed on the calender, the boat has a private event.  However, at times we do add new dates/times if the boat has an opening that becomes available.  Hence, please check the calender back often.
It's raining outside.  Can I reschedule?  Cruises are on rain / shine and can not be rescheduled.  Please bring a pancho or an umbrella.  There is also an interior deck on the boat.
Does the boat have a bathroom?  Yes, the boat has a bathroom.  There is no changing table for infants.
Is the boat handicap accessible?  Unfortunatly, the boat is not handicap accessible.  There are about 15-20 steps you'll have to climb up / down from registration to the boat.
Can I book the entire boat?  Yes, please e-mail us for more info.
Where are my Eventbrite tickets?  I can't find them. Please click here

Docked at River City Marina, the "Summer of George" was designed and built as a party cruise boat. Groups can enjoy our 100 foot vessel that has vast seating, an enclosed main deck, a full service bar and a dance floor to entertain your guests while they view the beautiful Chicago skyline. The interior is elegantly understated offering a 360 degree view from mahogany trimmed windows. The open-air upper deck is expansive with bench seating along both sides.

Directions:
The dock is located at 900 South Wells Street at River City Marina. Guests need to head south on wells street and enter through the parking lot behind the River City condominium building. The parking lot is located across from the soccer field on 9th Street and Wells.  You do NOT need to go in the building (see map below).

Click Here for a bigger map.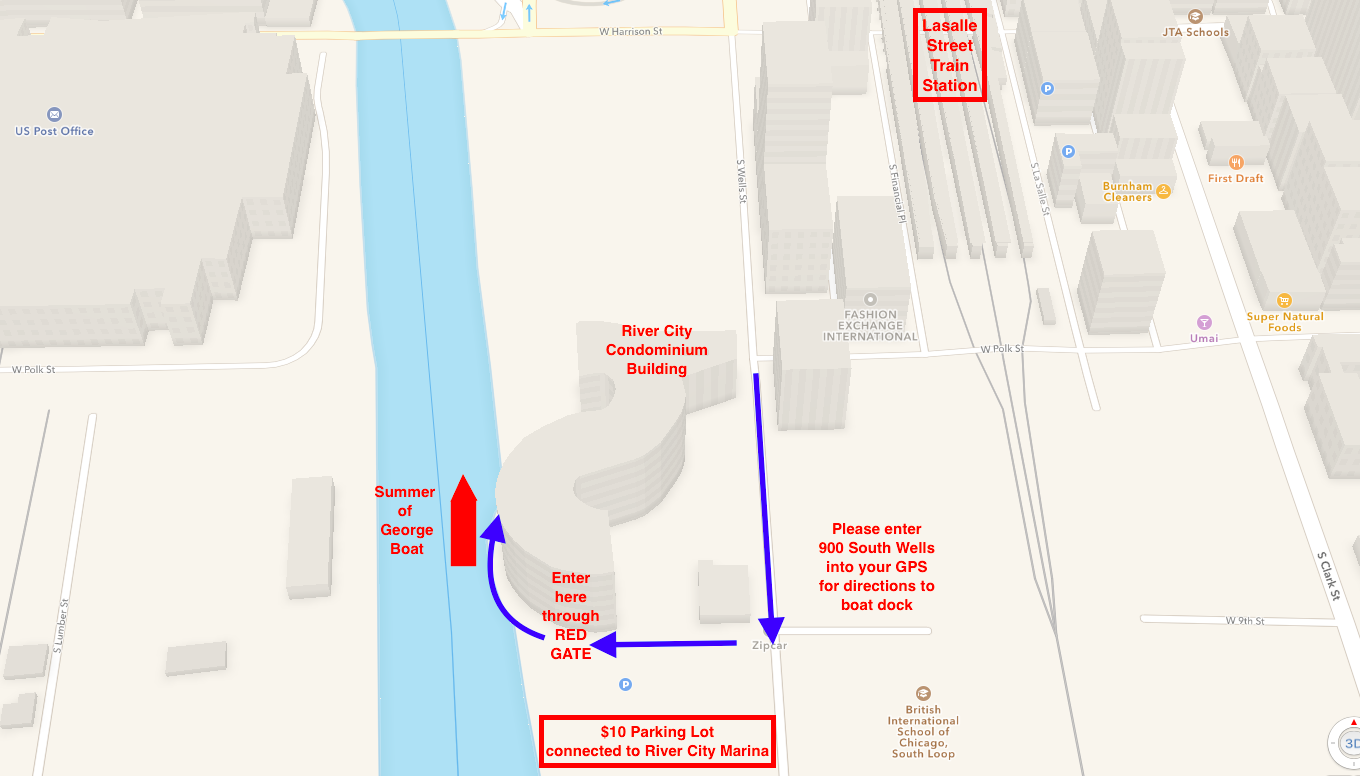 Ticketing Policy / Technical Issues:
ALL SALES ARE FINAL.  ALL TICKETS ARE NON-REFUNDABLE.  

​For any ticketing / technical issues​, please contact Eventbrite through​ the e-mail below. https://www.eventbrite.com/support/contact-us​.
For any other concerns, please contact us!

For More Information:
E-mail:  info@toursandboats.com
Phone:  312-809-6995