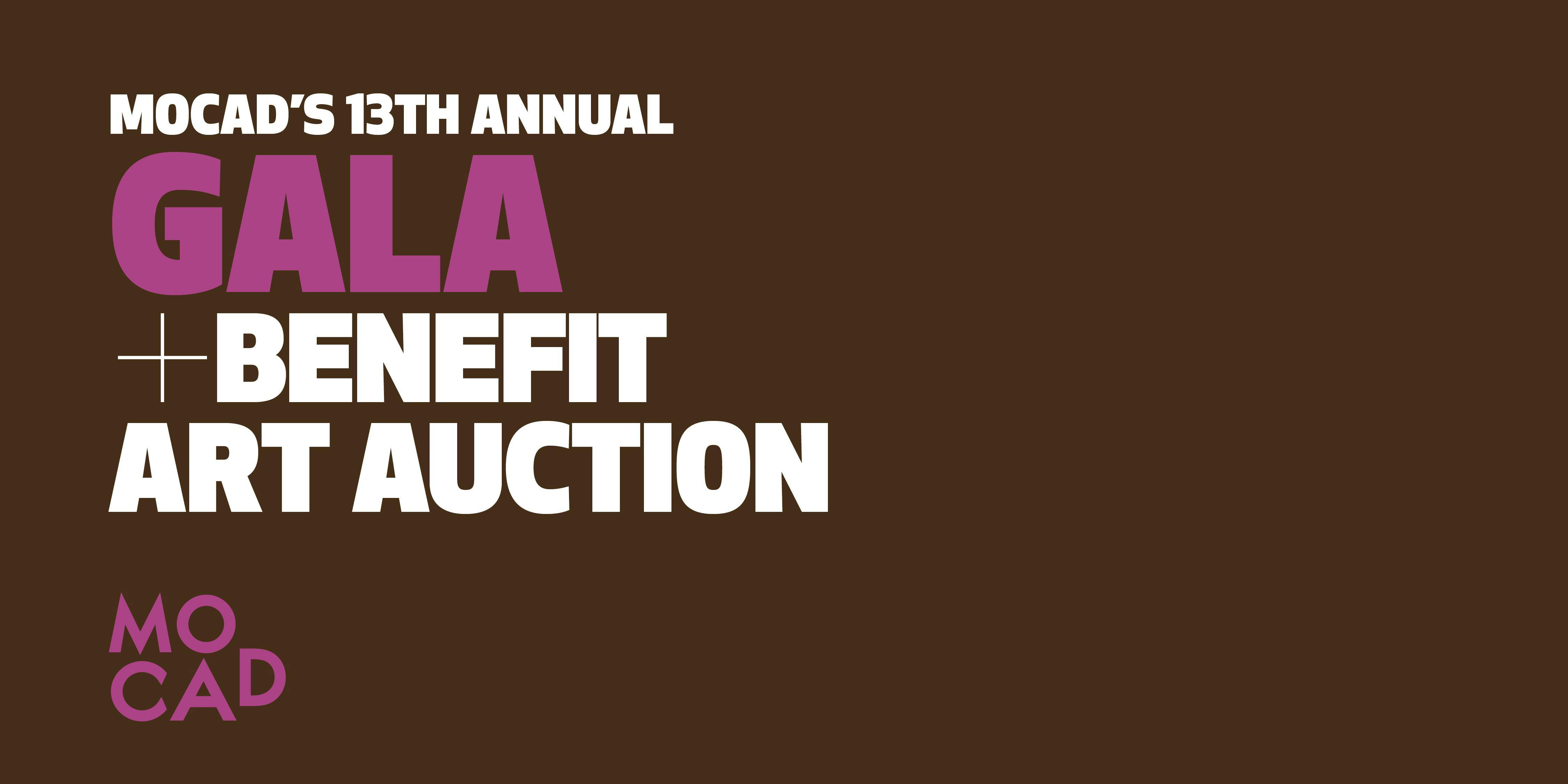 MOCAD's (Lucky) 13th Annual Gala + Benefit Art Auction


Museum of Contemporary Art Detroit
About event
MOCAD's (Lucky) 13th Annual Gala + Benefit Art Auction

Gala + Auction Itinerary: Friday, October 11, 2019

6pm–midnight: Entertainment by Detroit Legend Claude Young
6pm: Silent Auction
6–8pm: Cocktail Reception
8pm: Seated Dinner + Remarks
10pm: Auction Closes
10:13pm: Lights on Robolights Detroit

Valet Parking
Attire: Electric Fantasy
Rising Star (1 seat/$1,000) and Super Star (2 seats/$2,500) sponsorships can be purchased here. Please call 313-832-6622 to purchase sponsorships at $5,000 or above.
The Auction Preview for ticket buyers will be held at MOCAD on Wednesday, September 25. To register and to prepare for bidding, please visit Paddle8.com or download the Paddle8 iPhone app.
All proceeds from the Gala + Benefit Art Auction support MOCAD's work as a creative nucleus in Detroit. Your generosity reinforces MOCAD's mission, connecting artists from around the world to the local makers and innovator living and working in our great city.
This year MOCAD will provide donating artists 30% of the sales price as a thank you for their support and belief in the institution's vision.
Fine art shipping and transportation services are generously provided by Artpack Services Inc.
And lastly you'll be in good hands! Security for the evening is provided by the Retired Detroit Police & Fire Fighters Association.
See a special preview of Richard Prince: Portraits at our Gala.

Richard Prince: Portraits will be on-view from October 25, 2019 – January 5, 2020. Curated by MOCAD's Executive Director, Elysia Borowy-Reeder, Richard Prince: Portraits is comprised of various Instagram photographs, printed on large canvases. Additionally, the body of images will feature Richard Prince adding his own Instagram-style comments below.
Robolights Detroit is a re-imagining of the beloved futuristic art installation produced by artist Kenny Irwin, Jr. over the course of thirty-three years in his parent's yard in Palm Springs, California which has been lost to gentrification. Julie Reyes Taubman, co-founder and visionary of MOCAD, photographer and author, sadly passed away in January 2018. Before Julie passed, she started a photo book documenting Irwin and his lifelong project, Robolights. Given his relationship with Julie, Kenny decided to bring an edited version of Robolights to MOCAD in her memory. This will be one more way in which we will celebrate Julie's vision and endless creativity.
Meet the sponsors who generously support our mission and who help bring the best, most groundbreaking, contemporary art and culture to our Detroit community:

Auction Committee
Chris Byrne
Gabe Chess
Ellie Rines
Terese Reyes


Gala Co-Chairs
Elyse + David Foltyn
Kelle + Christopher Ilitch
Roz + Scott Jacobson
Sandra Seligman

FAQ
Alll tickets are will call - your name will be on a list at the door. If you are able, please share your guest or guests names on the order form so we can welcome them by name as well!
Q: What about my dietary needs?
A: Vegetarian/vegan options will be offered at the Gala. Please tell us if you or your guest(s) have any food allergies we should be aware of on the order form.
Q: I can no longer attend or changed my mind. Can I get a refund?
Tickets are non-refundable - please consider your ticket purchase a contribution to MOCAD, a 501(c)(3) non profit organization. If you can no longer attend and wish to allow someone else to use your ticket, send a note to lcourtois@mocadetroit.org to let us know.
Q: Is my ticket purchase tax deductible?
MOCAD is a 501(c)(3) non profit organization. A portion of your ticket purchase is a charitable donation and is tax-deductible to the extent allowed by the law. Contributions of $250 or more are acknowledged in the museum's annual listing of donors. Our development department will distribute recognition letters for ticket purchases following the Gala and before the year end.
Q: What will proceeds be used for?
Your ticket purchase is an investment in Detroit. Proceeds from the Gala + Benefit Art Auction aid in funding MOCAD's commitment to the presentation of forward thinking art and cultural events.  
We thank our members and donors for their dedication and enthusiasm, and look forward to working with new friends as we build for the future.
For more information:
MOCAD Board of Directors:
Burton Aaron

Maggie Allesee

Kate Beebe

Dr. Charles Boyd

Chris Byrne

Christine Tobias Colman

Lynn Crawford

David DeMuth

Linda Dresner

Elle Elder

Leslie Lewiston Etterbeek

Dan Feld

Jennifer Fischer

Elyse Foltyn — Chair

Lynn Gandhi

Marc Gardner

Laura Hughes

Roz Jacobson

Philip Kafka

Danialle Karmanos

Derrick May

Marsha Miro — Founder, Founding Director + President

jessica Care moore

Marisa Murillo

Carmen N'Namdi

Kristin Nicholson

Stuart Parr

Keith Pomeroy — Treasurer

Linda Powers — Secretary

Terry Rakolta 

Terese Reyes

Teckla Rhoads

Sandy Seligman

Cate Strumbos

Shelley Tauber

Alexander Taubman