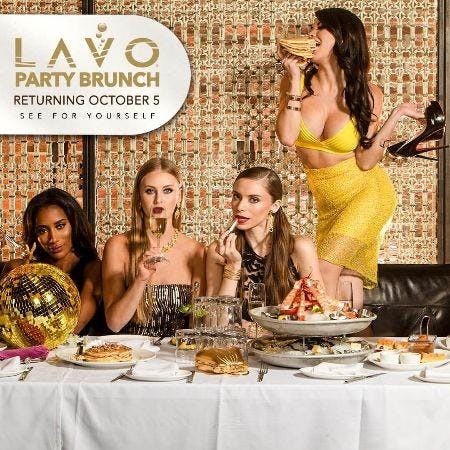 LAVO Party Brunch FREE OPEN BAR & ENTRY FOR LADIES @ PALAZZO LAS VEGAS


About event
About this Event
LAVO Party Brunch every Saturday at the Palazzo!! ** FREE Guest List ** with FREE Entry and Open Bar for LADIES!!!
THIS IS NOT A TICKET, TEXT PROMOTER TO RECIEVE CONFIRMATION TEXT TO SHOW AT THE DOOR. 
WANT TO GET ON THE GUEST LIST RIGHT AWAY? Simply text or whatsapp "LAVO BRUNCH", Full Name, and # of Girls/Guys to 609.481.0991 Please also include the date you wish to attend.
FREE ENTRY for LADIES!!
Guest List Details-
-You are Confirmed on Deep Patrel's Guestlist for this Event-
Must be 21 years or older for admission. Valid Photo ID or Passport is required.
Doors Open at 1:00PM, Guest List For Free entry is from 1:00PM-4:00PM.
Ladies Free Entry from 1:00PM-4:00PM
Males- Reduced Cover with Equal Ratio, or if more Ladies than Men in Group 1:00PM-4:00PM
Ladies receive Open Bar/Free Drinks from 1:00PM-2:00PM
Text Promoter DEEP PATEL with any questions 609-481-0991
Recommended to arrive early to guarantee entry!
**Please note that groups with ALL MALES cannot get on the guest list. Groups with Guys must be even ratio- MUST HAVE at least one girl for every guy in your group.
YOU WILL RECEIVE A CONFIRMATION TEXT A FEW DAYS BEFORE YOUR EVENT. YOUR NAME WILL BE ON THE GUEST LIST.
About LAVO Party Brunch-
From Fall to Spring, LAVO's famed Party Brunch provides the ultimate daylife experience. Originating at our sister location in New York City, TAO Group pioneered the wild afternoon affair, later introducing LAVO Party Brunch to The Palazzo Las Vegas in 2011. This signature event features an indulgent food menu, an expansive selection of Champagne and a variety of large format bottles, with music to keep the party going from resident DJs and Special Guests. Beginning with an immersive restaurant atmosphere, the room then seamlessly transitions into an explosion of confetti showers and wild bottle-popping presentations, including an array of characters that aren't your usual suspects. Partygoers let loose and dance the day away, either enjoying a Mainroom experience or living it up on LAVO's Rosé Terrace, which presents one of the best views of The Strip!