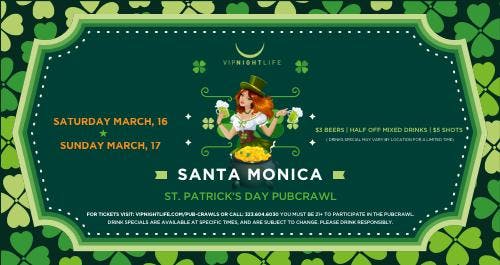 Santa Monica St Patrick's Day PubCrawl


About event
VIP Nightlife Presents...

The Official Saint Patrick's Day PubCrawl in Santa Monica!
It's time to put those Shamrocks on and head out to the World-Famous PubCrawl for some real shenanigans! The city will be buzzing with energy on St. Patrick's Day to meet some new friends while enjoying drink specials and creating great memories.



$3 Beers
1/2 off Mixed Drinks
$5 Shots  
* Drinks Specials may increase by up to $2 after 10 pm.
Drink specials may vary at certain locations.
How it works:
1) Buy your ticket for the day you want to go
2) You MUST Check-in at Circle Bar during the following times:
Saturday 3.16| Check-in Times: 2pm - 10pm
Sunday 3.17| Check-in Times: 2pm - 10pm
(You may register anytime between those times, but don't miss the final cut off time. Keep in mind some locations will start and stop participating in the drink specials at different times throughout the night, but new ones will begin.)
3) At Registration, you will be given a map with the bar locations and when they're participating in the drink specials.
Registration: Circle Bar
Circle Bar
2926 Main St
Santa Monica, CA 90405

Registration: Barney's Beanery
Barney's Beanery
1351 3rd St. Promenade 
Santa Monica, CA 90401
Here are the PubCrawl Event Times:
Saturday 3.16| Times: 2pm - 2am
Sunday 3.17| Times: 2pm - 2am
- Wear Green or get Booed!
- Must be 21+ to participate
- Do Not Drive. Take a cab, limo, walk, or arrange for a designated driver. 
 For more questions please call: 323.604.6030
: | Disclaimer |: 
Must be 21 years old to participate; valid State ID required. Advertised drink specials are subject to change and may vary at certain venues. "Two-for-one drinks" means you get two drinks for the price of one (if applicable). Each venue may only serve one well drink, one beer special, one "buy-one-get-one-free" special, one premium beer, and/or Champagne special. Venues may also have their own additional specials going on at the same time - those do not apply to ticketholder. 
The Pub Crawl starts at a specific time (that is listed on your eTicket) which is also noted in the description of the event listing: the later you arrive, the fewer specials you might get. Participating venues and advertised times are subject to change at the last minute. Actual drinks and specials offered are at the venues' discretion and are subject to change. Each venue may only participate in the drink specials for a 3-hour period. After 10 PM drink specials may increase by $1-2 at each individual venue's discretion. As the event progresses, additional venues may commence participation.
We promote safety and urge all participants to drink responsibly. If you appear to be over intoxicated, the venue has the right to deny you entry. Participants must bring their eTicket to the registration venue on their mobile device or printed.
There may be lines going into the venues. Pub Crawl tickets do not include "skip-the-line" privileges. If a venue is at capacity, you may have to wait or proceed to another venue.  Each venue must abide by Fire Marshal and capacity regulations. 
Do not be late for registration. Registration ends promptly at 10 pm. 
Please drink responsibly. Thank you in advance for your cooperation. Let's have fun and party safe! 

:| All sales are final; no refunds or exchanges. Prices are subject to change while supplies last.