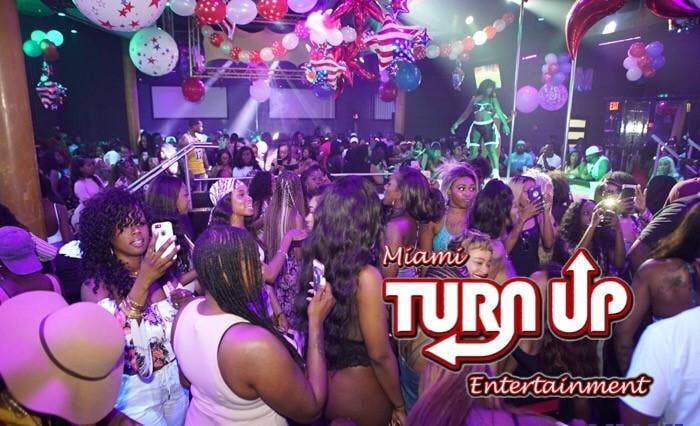 G5IVE Miami|Primer Urban Gentleman's Club|All Inclusive Party Package


About event
G5IVE MIAMI ALL INCLUSIVE PARTY PACKAGE WITH 2 HOUR OPEN BAR/ROUND TRIP TRANSPORTATION AND VIP ENTRY NO LINES!SOUTH FLORIDA'S PERMIER STATE OF THE ART URBAN STRIP CLUB.
Miami Turn Up Entertainment LLC (www.miamiturnupent.com) IG:@MIAMITURNUPENT has been providing party package services on South Beach since 2007. We are one of the only reputable and trusted promotion companies on South Beach and our references, transparency and communication skills set us apart. We take your nightlife experience to the next level without spending thousands of dollars or waiting in line for hours. We have hosted thousands of events throughout our years in operation and strive to give our guests top of the line customer service. 
PLEASE READ COMPLETE EVENT!

GET READY TO TURN UP WITH OUR OFFICIAL G5IVE MIAMI ALL INCLUSIVE PARTY BUS PACKAGE!

WHATS INCLUDED:

OPEN BAR 10-12 ON SOUTH BEACH (UNLIMITED MIXED DRINKS)

TRANSPORTATION FROM THE PRE-PARTY LOCATION TO THE CLUB.

 FREE EXPRESS VIP ENTRY, NO LINES NO WAITING NO DEALING WITH DOOR STAFF (COVER CHARGE INCLUDED IN PACKAGE PRICE)

PREMIUM OPEN BAR INSIDE KING OF DIAMONDS ON FRIDAY AND SATURDAY                   

PARTY PACKAGE PRICE: $74 PER PERSON. 
The ticket here is $24 per person reserve your spot for the party bus, the balance of $50 per person is due upon he pre-party the night of your reservation.  

YOUR RESERVATION CONFIRMATION WILL BE EMAILED TO YOU AFTER BOOKING, YOUR CONFIRMATION WILL INCLUDE ALL THE NECESSARY DETAILS FOR YOUR RESERVATION         
PLEASE NOTE: YOU ARE RESERVING FOR A PARTY PACKAGE SERVICE. ALL GUESTS ARE REQUIRED TO CHECK IN AT THE PRE-PARTY LOCATION BEFORE GOING TO THE CLUB IN ORDER TO HAVE THE SERVICE MENTIONED RENDERED TO YOU.
If you have any questions regarding our party packages we can be reached at 305-923-6589 or 914-437-4076. Alternatively you can email us: info@miamiturnupent.com.                                                                  We take pride in having the fastest responce time in the industry. 
You can find a complete list of terms HERE For more information, photos of past events and references you can visit our website at www.miamiturnupent.com