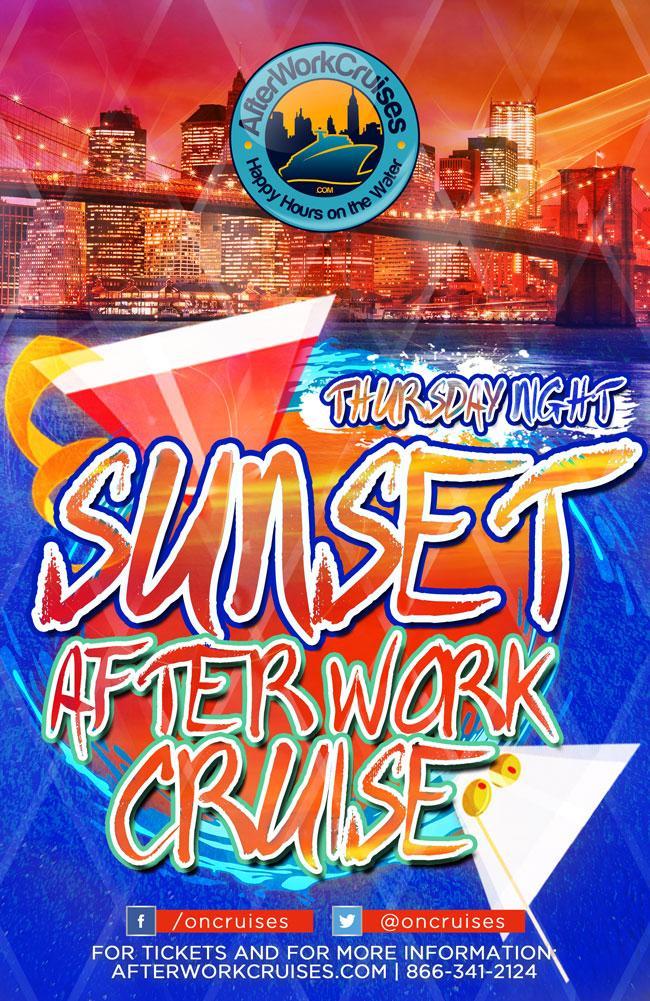 Thursday Night Sunset After Work Cruise


About event
For additional information, please visit:
Can you really wait until Friday at the strike of 5PM to go out and have a drink with your co-workers? Chances are you can't. That's why folks think that the weekend officially starts on Thursday. You can all go out for drinks on Friday, but chances are your energy tank will be empty. That's why Thursday's the day. Rather than opting for the bar around the corner from the office, here's your chance to spice things up and surprise your co-workers with a fun opportunity that will amaze them.
The Thursday Night After Work Cruise features everything you can get in a bar, only with spectacular views of the city. Presented by AfterWorkCruises.com, the boat features a cash bar, a live DJ serving up music throughout the voyage, and last but certainly not least, immense views of the Big Apple that you could only get from the outside in. It's easy to head to a bar and enjoy a couple of drinks, but after doing the same thing for weeks with everyone in the office, it's best to shake things up and give everyone something to look forward to.
Just imagine yourself aboard a spacious boat with a cocktail in hand, music blasting, and an awesome backdrop that features the twinkling lights of the New York City skyline. Seems like a pretty easy decision to us. Here's your chance to get tickets to an awesome after work experience that you'll definitely want to be a part of again and again.
Boarding: 7:00pm
Departing: 7:30pm
Returning: 10:00pm
Age restrictions:
21+
* Prices are subject to increase