About event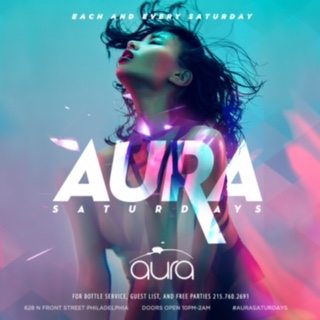 {Aura Saturdays}: Weekly Saturday Event – Aura Lounge • Northern Liberties / 628 N Front Street • Philadelphia, PA
This Event will be at capacity. Please consider bottle service and early
arrival to guarantee admission and a great experience.
Open Bar with RSVP: 10pm-11pm 
Aura Saturdays: Join us for our weekly event held every Saturday at the beautiful and chic Aura Lounge! This nightclub features an elegant ambiance setting, a state of the art sound system, artfully constructed cocktails, and a relentless pursuit of customer service. The multilevel venue interior is suitable for intimate gatherings; a sophisticated birthday celebration; or simply an after-work unwind with friends. With a focus on well-appointed VIP seating – truly private booths that feature an extensive bottle service menu – Supreme Marking Group invites you to experience an irresistible combination of style, luxury and customer service in Philadelphia.
Come experience nightlife as you never seen before with a twist of nostalgia, as we feature the elite DJs and hosts in the Philly Tri-State area.
RSVP NOW - http://www.aurasaturdays.eventbrite.com/
w. Aura Lounge, Supreme Marketing Group, #AuraSaturdays
w. $10 Admission til 11pm w. RSVP
w. Premium Open Bar from 10pm-11pm w.RSVP
w. Aura Lounge, 628 N Front Street, Philadelphia, PA
w. Your Finest Attire is requested. 
This event will be selective in nature. *Dress code restrictions are at the discretion of Aura's management and pertain not merely to articles of clothing, but more importantly to style and execution.
For bottle service or Free Parties please contact us at 215-760-2691 or email suprememarketing215@gmail.com for large groups or corporate event booking, please contact us at suprememarketing215@gmail.com
Aura Lounge,
628 N Front Street Philadelphia, PA
10:00pm-2am