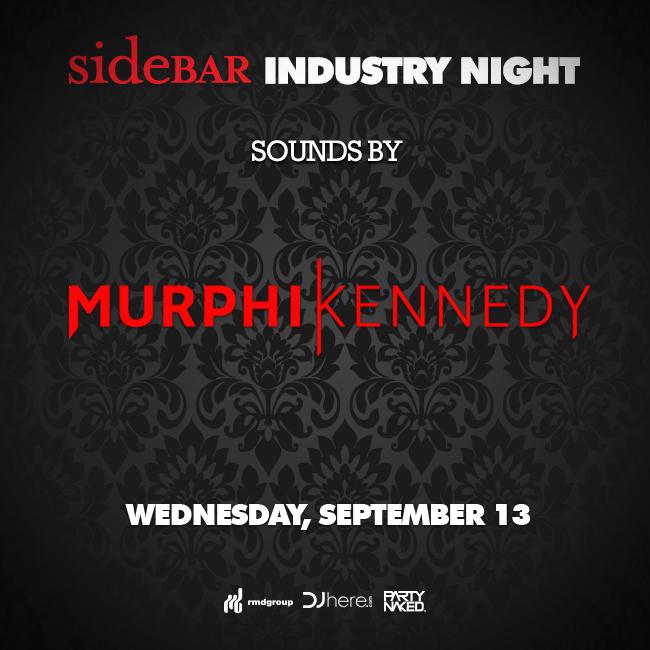 Industry Night at Side Bar Nightclub w/DJ Murphi Kennedy

Wednesday, Sep 13, 9:30pm

About event
Side Bar, an intelligent combination of both ultra-lounge and nightclub, provides a dynamic aesthetic with classic sex appeal. Join us for the hottest Industry Night in town with sounds by DJ Murphi Kennedy
A mismatched array of leather booths and velvet couches lend themselves to be both lounge seating and bottle service tables. A cluster of maroon birdcages dangle from the lofted ceiling above the front lounge. 
The caged theme continues to the focal point of the club; a life-size birdcage that houses the DJ and doubles as a stage for go-go's to climb in and tease the high-energy dancing crowd that gathers below.
A custom-designed ambient lighting package provides just the right mood for any given event while the unique collection of erotic paintings and decor provide subtle distractions. Side Bar offers an experience that is both stimulating and suggestive, depending upon where you are standing. (read below)
For Bottle service Reservations - Text SB150 to (760)809-6033
Dress Code:
Side Bar is an upscale nightclub experience, dress code is upscale casual.
- No hats or head coverings of any kind
- No athletic shoes/wear or jerseys
- No work boots of any color
- No hoodies or sweatsuits
- No excessively baggy clothes
- All chains or pendants must be tucked in
- No shorts*
- No sandals*
For Bottle service  Reservations - Text SB150 to (760)809-6033