About event
Heartsinspyre Entertainment is pleased to present another speed dating event with a carnie sideshow twist!! Highline is a gourmet vegan restaurant and metal/punk live music venue/dive bar so check your pretentiousness at the door. Be your real true laid back silly self! Don't be afraid to let your hidden inner clown come alive and run wild with the monkeys. If there's one thing we learned from last month it's that our initial snap judgement perception is often entirely wrong! Someone you'd never blink at on accident on tinder will turn out to be fascinating and someone you assumed would be 100% self absorbed has a heart of gold. Magic can happen, folks, the moment you relinquish all control to allow the nature of the cosmos to flow in and through you... Not promising you will meet your soulmate or anything but you will have some relaxed freaking fun for once cuz this is a singles event that just won't suck!!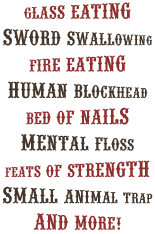 Check-in for placement and mingle between 7-7:30. Then will have a talented variety show performer (TBA) show you something cool right at the top of the evening once we're ready to start at 7:30 pm sharp. You will go on anywhere from 5-11 different mini-dates around 6-7 min long and at the end there's another sideshow performer's act and all you have to do is slip Asraiya a piece of paper with who you'd like to receive whatever contact info you want her to pass along to them IF they would like to give you theirs as well. That will be distributed approx. 24 hours later or by 7pm the next day. Any questions? K peace.
This event is organized by Heartsinspyre Entertainment.